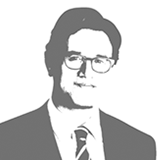 Founding Partner and Chairman of LLYC Spain / U.S.A.
Jose Antonio Llorente as a specialist in Corporate and Financial Communication, over the course of a career spanning more than 25 years, he has provided consultancy services on numerous corporate transactions: mergers, acquisitions, divestments, joint ventures and stock market floatations. Mr. Llorente was the first Spanish professional to have received the SABRE Award for Outstanding Individual Achievement, a European award presented by The Holmes Report.Mr. Llorente worked at the multinational Burson-Marsteller for ten years, where he was Managing Director. He currently sits on the Board of Trustees of the Euroamérica Foundation and the Steering Committee of the Spanish Association of Minority Shareholders of Listed Companies. He is also a member of the Advisory Council to SMEs of the Spanish Confederation of Small- and Medium-Sized Enterprises, the Steering Committee of the Agencies of Spain Association and the Advisory Council of Executive MBA in the Management of Professional Services Organisations organised by Garrigues. José Antonio has a degree in Information Sciences from the Complutense University of Madrid, and specialist in Public Affairs at
Indiana University of Pennsylvania
and
The Henley College.
@jallorente
[United States - Spain]