The communication of health: from us to them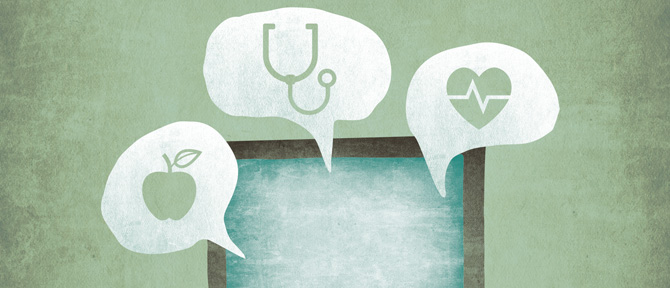 Health and lack of it, innovations in science, the way societies get organized to offer health services, the health possibilities of products… all these issues are usual topics in public communication. The communication of health is now very specialized and interdisciplinary and interacts with other areas such as communication, medicine, science, social sciences, economy, politics, pedagogy, sociology and even psychology.
The concept of health (with or without communication) has changed over the last century and moved to more positive concepts. The definition of the World Health Organization, preamble to the WHO constitution signed by the 61 states on the 22nd July 1946, is the most well-known and says: "Health is a state of complete physical, mental and social well-being and not merely the absence of disease or infirmity". According to this definition we can say that there are different factors which act in health.
Health has an important relationship with the access population has to information
The first factor is human biology and genetics, which cannot be modified with communication actions but which offer important information regarding diseases and their cures. Another important aspect is the health system existing in the country. Communication acts here as a lobby and defends or goes against the different models existing in the society from macro-strategic concepts to micro solutions. The environment plays also a role not only regarding pollution or absence of it but also in its widest concept: physical, psychological or cultural environment. Communication here informs and reports. The last aspect is the lifestyle, which is the biggest discovery of health communication in the past years. There is an increasing interest on receiving information to help people to have healthy lifestyle habits and companies have understood this need and want to give it an answer.
With all this information we can say that more and more, health has an important link to the access we have to information. At this point we have two different effects:
1. Health information is now more individual and less social. Even though communication has become an important strategy for health policies, public opinion is increasingly interested in issues that affect them in an individual way. We are only interested in big debates about health services when it affects us directly and information seeking to change health habits should be easily embraceable by individuals.
2. In all surveys people place health issues in the priority issues and also say to feel poorly and badly informed.
T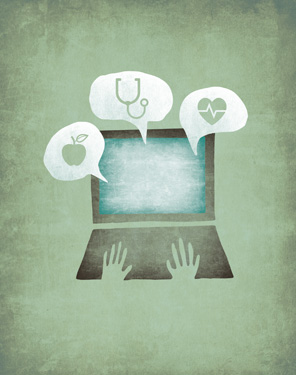 he development of communication has influenced in the apparition of these two paradigms. Together with the traditional methods such as texts and audiovisual material we also find now online communication. Internet has already changed the way we get informed and the way companies and institutions communicate. In the case of health, Internet has become a real revolution.
Some studies say that more than 50% of users using the Internet are directly or indirectly looking for health information. What is more, the information they will find in the Internet will have an impact on the decisions they will make. Most conservative calculations talk about more than 10 million of websites about health. To this number we must add the wide variety of applications which daily appear and offer ways to lose weight or offer diagnoses.
We all want to become experts on our diseases, especially if they are serious ones. This is a natural, human and good desire. We want to emphasize the word "good" because a well- informed citizen, and especially if he has got information from the Internet builds new relationships between people with the same health interests and becomes an independent patient. The Internet makes the health information more accessible, individual and shareable and it makes it social and emotional.
Internet makes health information more accessible, individual and more easily shared and it makes it social and emotional
However, it also benefits the "cibercondriacs" (a term coined in 2009 by White and Horvitz, Microsoft researchers). The wide information available in the Internet creates extreme fears and anxiety. In fact, there is an study which shows that 10 out of 100 people looking for health information in the Internet end up feeling anxious and worried (Pew Internet Research, 2006). Another weak aspect is privacy and confidentiality.
Another characteristic which is usually reported is the lack of reliability on information. It is not true: most part of the information available is reliable. The problem is the lack of tools to make the difference between reliable and non-reliable information. Quality labels do not make the difference since less than half of the researches have been done through Google. The access to health information is increasing not in sites found by Google but in forums. In this scenario, is much more difficult to distinguish reliable information from not reliable one.
What do we look for in the Internet? Results are different if we do the research from a computer or from a mobile phone. According to Yahoo three out of five questions about health done through a mobile phone are related to sex (pregnancy, herpes and sexually transmitted disease, etc.). The reasons are that young people usually use mobile phones to access the Internet and it is related to their urgency and need of information. In general, most searched words are related to herpes, pregnancy, pregnancy week by week, depression, heart, and breast cancer.
Internet has become a great revolution regarding on and offline health communication. It has not only turned health communication more personalized, individual, emotional and easily shared but also has reminded that the target should always be the person reading or listening. Internet has revealed that people do not look for "axial Computerized tomography" or "radiology tests for the brain" and not even for "brain tumor"… we simply type "headache". All this knowledge needs to be used also for offline communication.
Only companies capable of sending messages thinking on their interlocutor, who are able to answer the patients' questions and who offer information focused on the individual as a person, will be able to get to that point of transmitting their interests and meet the common points between the companies and the clients and will achieve the long-waited credibility.